Marketing Methods for Small B2B Companies With In-House Resources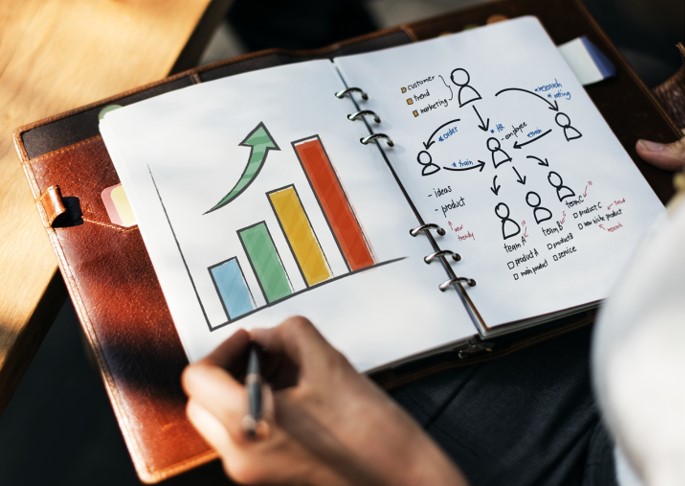 It's the start of a new year and that's a great time to focus on lead generation, raising awareness, and bolstering your company's reputation. All of those things add up to strategic marketing. And that leads to the question: what are the best marketing methods for small companies, especially for business-to-business, or B2B, companies.
Most business-to-business (B2B) companies know by now that they have to get more serious about marketing than they have been in the past. Gone are the days when a great sales team and attending a couple of conferences a year was sufficient to attract new clients and staff, keep the pipeline full, and succeed.
The marketing challenge for B2B companies, especially if they are small or mid-sized, is to figure out two things:
WHAT marketing should they do?
HOW should they do it?


There are so many marketing tools available now, so it's difficult to know what the best marketing methods are and how to use them.
How to Market if You're A Small B2B Company

When it comes to marketing, small and mid-sized B2B companies are usually in one of two camps. Either they execute marketing:
In-house (with a marketing team of one or more full time marketers)
Outsource (to one or more marketing specialists or agencies)
There's also the option of combining these two approaches, with some in-house marketers alongside outside professionals for particular projects or tasks.
There isn't a right or wrong way to execute marketing, although many B2B companies find that different models work at different stages of growth and knowledge.
Regardless of in-house vs outsourced marketing, there is one thing that all B2B companies have in common when it comes to marketing:
They want to spend as little as possible in marketing
and get the largest possible return.
With that in mind, this blog post is for companies who are looking to elevate their marketing this year and they have some in-house resources to spare. In short, they want to use their existing staff as much as possible to make use of dollars they're already spending.
If you aren't sure if you should in-house or outsource your marketing, take the Should You Outsource Your Marketing or Do It In-House? [Quiz]
First, A Word About Executing Marketing In-House
And a word of caution about the idea of using your in-house staff to do your marketing. This is a good idea in theory. But it is almost always harder to do in reality than it sounds. To be successful, you will need a strong project manager who has the ability to compel colleagues to complete tasks on-time (don't put an intern in charge and expect him or her to get a whitepaper written by the chief scientist on a tight timeline). Also make sure that the person in charge understands what strategic marketing is and has a vision for your company's marketing.
With that caveat in place, let's look at the best marketing methods for small companies that have in-house time and expertise to spare, but not a lot of dollars to spend on advertising and trade show booths.
Category One: Low External Spend / High Labour

These marketing methods are labour-intensive (they require many hours to execute), but they won't break the bank when it comes to a dollar spend. So if you have extra in-house capacity, they will be among the first things for your team to consider. They're among the best and most effective B2B marketing methods available, they just take time and coordination.


Thought Leadership
Developing content like blogs and whitepapers gives a company the opportunity to demonstrate its expertise, stay on the radar of past clients, and raise awareness among new clients. If you develop really strong content, you can turn it into webinars, infographics and other lead generation machines.
Like most B2B marketing tactics, the secret with content is to spend as much time distributing and promoting the content as you do writing it.
And a word to the wise – make sure to have your whitepapers designed by a professional. If you have brilliant writing, but the materials look like they were formatted in 1994 on WordPerfect, you lose all credibility.
Case Studies and Testimonials
Developing case studies that showcase specific examples of your company's success is hands-down one of the best marketing methods for small businesses. Your sales team can use case studies in pitches, you can promote them in your company newsletter, and of course promote them online through your website and social media presence. When a prospect sees that you have experience solving the exact problem they're tackling, they'll get in touch with you.
Asking clients for feedback and testimonials is a great way to build credibility, prove your value, and remind them that you're out there and interested in helping with their newest challenge.
Email Marketing
Email marketing has stayed one of the highest ROI marketing methods, despite all the changes in technology over the past decade. With new legislation like GDPR and CASL, it's best to use marketing automation to stay on the right side of the anti-spamming rules. And keep in mind that email marketing only works if you have good content (see Thought Leadership above). Email marketing is best when it's done consistently, so if you can stick to a regular schedule (say, once a month or every other month), it will be one of the best marketing methods for your business.
Partners + Networking
Taking the time to expand your partner network, socialize with prospects at corporate functions and association events is still an effective way to help build awareness. In fact, in our increasingly digital age, it's probably stronger than ever.
Social Media
Be cautious with social media because it's a long-term play. Don't do it for a month or two and drop it, that's worse than not starting. In B2B, usually LinkedIn is the top platform, followed by Twitter. Facebook has been growing in importance.
Regardless of your specific plans with social media, your sales reps should have up-to-date profiles on LinkedIn, and the savvy ones will use it to nurture relationships, and generate leads and referrals.
Category Two: Medium Cost (Some Spend Required)

These marketing methods are more expensive, and usually require a specific set of tools or expertise that may require outside spend. But given the right circumstances, they can have huge impact and be among the best marketing methods for small companies.


PR
Letting the world know about your company's achievements is a great way to build credibility and awareness. Many press release distribution sites have options ranging from $0 to $1000 per release.
It's important to remember that strategic public relations is about more than just press releases. Get to know the reporters in your industry and develop a strategy to approach them with information that may turn into articles or interview requests.


Video
Developing dynamic video content used to be expensive, and it still can be, but often a low-tech (and low-cost) video can do the trick. If your industry doesn't call for highly technical, highly polished video content, consider training up a member of your staff to be able to take and edit video.


Category Three: Highest Cost (High Internal and External Spend)
These marketing methods are at the high end of the cost spectrum. You can use in-house resources to prepare, but it won't eliminate the required fees to 3rd parties to make them happen. Use these tactics strategically (a website, for example, is a must-have, but going to dozens of trade shows if you're on a limited budget is simply a recipe for disaster).

Trade Shows
Renting a space to exhibit your business is the first part of trade show presence. But to be successful, it takes much more – travel expenses, booth, collateral, promotional items, potentially a tradeshow infotainer, and more to make sure you're leveraging the investment. And don't forget that making the most of exhibiting at a trade show means lots of time invested alongside the spend - lots of pre-show and post-show communications are needed to raise awareness that you'll be there and to follow up with prospects and build relationships after the show.

Website
Your website is most often the first impression of your company to prospects. Designing a site that will capture the attention of your users and engage them in action (hopefully to call you, or register, or buy) takes a lot of effort and know-how. Taking that vision and translating it into a beautiful, well-functioning site takes the expertise of a professional developer. A website is an absolute must-have for B2B companies now, so make an intelligent spend (neither too little nor too high).
Memberships & Associations
Joining various associations and groups, particularly those that your prospective clients are members of, may help you network with your clients in a less "salesy" environment. Many associations offer free memberships, but for those with associated fees this may add up quickly, especially if each staff member requires his or her own membership to get involved. It also must be married with the commitment of time - don't make the mistake of paying hefty member dues and then never attending any of the events.
Summary
It's a great idea to leverage your internal team to execute your marketing, if you can pull it off.
Many companies find that it's harder to do than they expected, so don't be too hard on yourself (or your team) if it doesn't come together exactly as you envision.
The keys to success are strong project management and a strategic marketing direction.
And there are always external marketing resources to help if you need it.