3 Key Stats That Show How B2B Buying Process Has Changed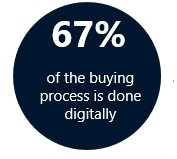 The boom in digital marketing and e-commerce over the last 5-10 years has changed the B2B (business-to-business) buying process significantly. But what's different and how does it affect your company? Here are 3 key stats, from research done by reputable organizations, that tell you exactly what has shifted and how you, as a business owner, CEO, VP of marketing and sales, or marketing manager, should adjust your B2B marketing strategy to stay current.
67% of the buying process is done digitally
More than half of the buying journey is taking place online! This means that B2B companies who have not embraced the need for digital assets and marketing, such as an SEO optimized website, social media, engaging content, pay-per-click advertising, etc. are now falling behind. Traditional marketing tactics, such as referrals, still play a major part, but are also taking shape online, for example, in the form of case studies and testimonials.
So what do you do to keep your B2B company competitive? Cater to what your customers are asking for and evolve with them. Recognize the need to build a digital presence and work the plans into your B2B marketing strategy. Otherwise, you risk the chance that your company is never even considered when your target markets are researching their next purchase.
5.4 people are involved in each B2B buying decision
Wow, that's a lot of people! Traditionally, a B2B exchange might go something like this: A top performing sales person from a B2B software company meets an IT director at a conference. They have a chat, the sales person does a demo at the booth. Maybe they go out for dinner, talk some more about the software. They get along and done deal, the software is sold. In stark contrast, now, the same scenario is likely to go like this: A top performing sales person from a B2B software company meets an IT director at a conference. They have a chat, the sales person does a demo at the booth. The IT director takes the information back to his office, gives it to his associate, along with information about several other competitive software and asks her to do some research. The associate goes online, compares all the different options and ranks them based on different aspects such as features, price, implementation time, case studies, etc. She then presents her research to her IT director, who first takes it to the product managers, then the sales team, then finally to the CEO. Everyone weighs in and a decision is made based on the collective opinion.
What do these changes mean to you the vendor? First, you have to work to identify who the decision makers (what we refer to as customer personas) will be and adjust your B2B marketing strategy to target these individuals. Then, you must ensure that you are providing all of the information your decision makers are looking for and make it easy to find. For example, you may create a feature sheet geared towards product managers, or a case study that will be used by the IT director or, an ROI calculator that is most important to the CEO. By doing this, you make it easy for decision makers to evaluate how the solutions you offer compare to others. Buyers appreciate vendors who make things easy for them. By catering your marketing to their needs, your company is already making a positive impact and positioning itself as a winner.
75% of B2B buyers use social media to research vendors
We've had many of our clients say to us they "don't believe in social media." Social media platforms have dramatically changed the way people connect with each other and businesses which has made it an integral part of digital marketing strategy. Before, during and after the purchase, B2B buyers are interacting with the company and their other customers to evaluate the solutions, learn from other users, express their concerns, rave about the products and services and much more.
What does this mean for the B2B company who's never had a social media presence? Get on LinkedIn! This is a must for all B2B companies who want to succeed in the digital world. Not only does a LinkedIn company page boost SEO (makes your website more likely to be found through search engines like Google), it also serves as a platform for free advertising and self-promotion. You can use your LinkedIn company page to tell the world more about your company, to post content like blogs and articles or share news and events. A LinkedIn company page allows you to join the digital conversation with potential buyers, making it easier for them to find and learn about you.
Overall, when you are creating your B2B marketing strategy, consider which social platforms make most sense for your business – start with LinkedIn. Research and find out where your target markets are active and create a company profile. Ensure that your profile looks professional and follows your brand guidelines. Then, post updates regularly. A little bit of effort on social media has the potential to go a long way!
---
Want to learn more about how these and other key stats should affect your B2B marketing strategy? Get in touch with us, we live and breathe this every day.
References: